Many Native American people have long-standing ties to the Bears Ears cultural landscape. Several southwestern tribes trace their ancestry to the ancient peoples who populated the region since time immemorial, building ancient roads, shrines, pit houses, pueblos, great houses, kivas, and cliff dwellings – the remains of which still grace the landscape today.   Bountiful rock paintings and petroglyphs also decorate cliffs and boulders throughout the region.
Bears Ears is home to more than 100,000 Native American archaeological and cultural sites, considered sacred by many tribes.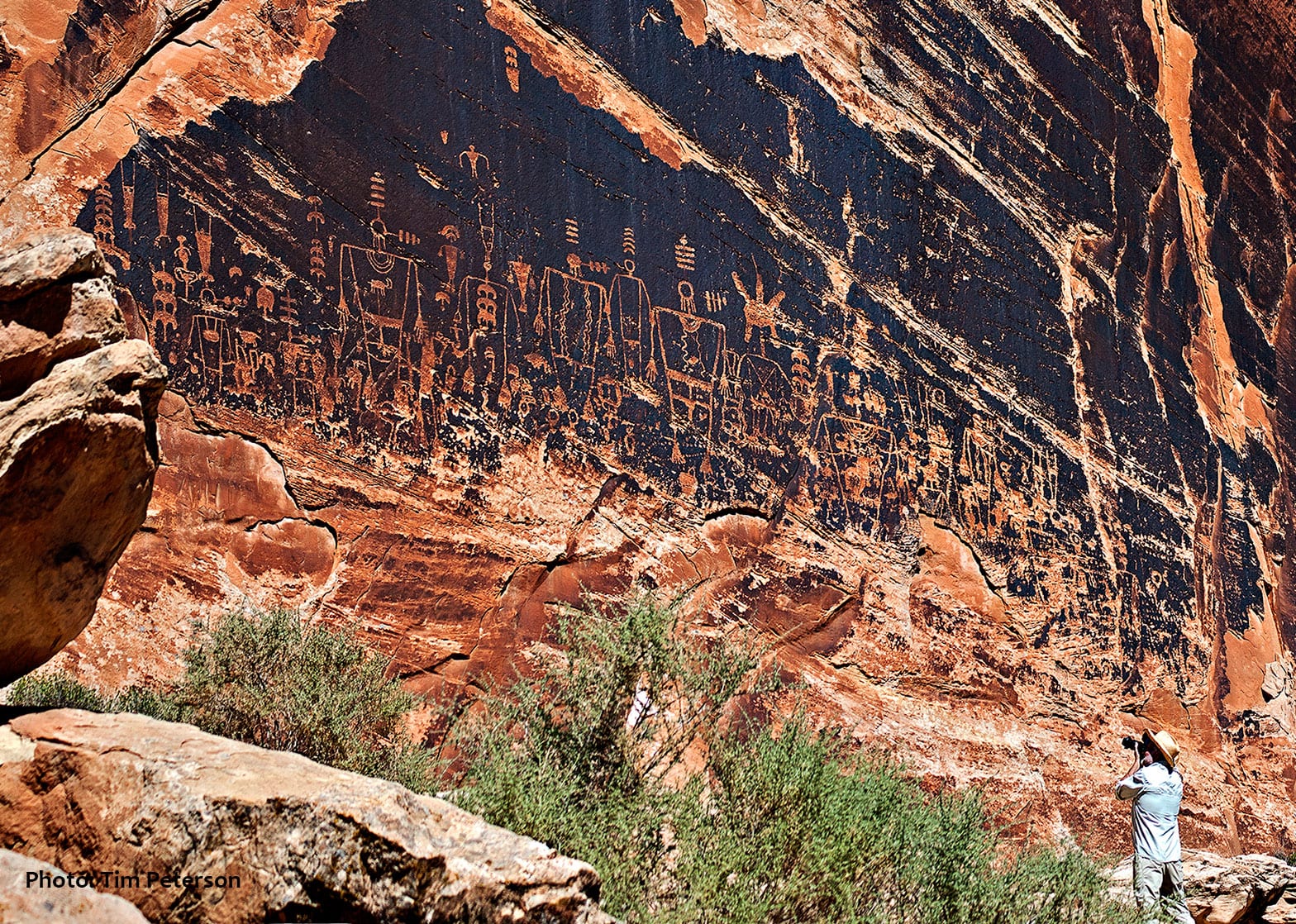 Petroglyphs near the San Juan River.

Tribes and Pueblos with cultural ties to Bears Ears:
Navajo Nation
Hopi Tribe
Ute Mountain Ute Indian Tribe
Uintah and Ouray Ute Indian Tribe
White Mountain Tribe and Jicarilla Apache Tribe
San Juan, Kaibab, & Utah Paiute Tribes
White Mountain and Jicarilla Apache
Hualapai Tribe
Pueblos of Acoma, Cochiti, Isleta, Jemez, Laguna, Nambe, Ohkay Owingeh, Picuris, Pojoaque, Sandia, San Felipe, San Ildefonso, Santa Ana, Santa Clara, Santo Domingo, Taos, Tesuque, Ysleta Del Sur, Zia and Zuni.
The vast majority of the archaeological and cultural sites in the area have been dated by western archaeologists to at least 700 years old (with some dated as far back as 12,000 B.C.E.), though tribal peoples of the Colorado Plateau trace their connections here back much farther, since time immemorial.
Many historic Navajo hogans and sweat lodges, Ute tipi rings, and Navajo and Ute rock art sites are also found in the area. Navajo Headman Manuelito was born near the Bears Ears twin buttes. Manuelito led his people in their resistance to forced relocation on "the Long Walk" to Bosque Redondo, New Mexico, and helped secure the treaty that allowed their return to the Navajo homeland. Navajo people believe the Bears Ears buttes to be a shrine that protects the Diné (Navajo).
Protection of all these sacred sites is critically important to Native American people. Ongoing looting, grave robbing, vandalism, and destruction of cultural sites are acts that literally rob Native American people of spiritual connections, as well as a sense of place and history. (Read more about these problems on the "threats" page.)
Native American connections to Bears Ears aren't just about protecting the past. Many Native Americans visit the area on a regular basis for ceremonies and to connect with their ancestors. The Navajo Nation and the White Mesa Ute Reservation border Bears Ears on the south and east, respectively. Navajo and Ute people frequent the land to collect herbs and medicine, forage for food (such as piñon nuts), gather firewood for heating and ceremonial use, and to hunt game.
Because of these ongoing traditional uses, proper management of Bears Ears' native plants and wildlife is paramount to Native American people.  Tribal people depend on the Bears Ears region as both their medicine cabinet and their pantry – for food, shelter, and healing, as well as for their spiritual sustenance.