Lands within the Bears Ears region are among the most culturally significant in the country. The area is world renowned for the integrity and abundance of cultural and archaeological resources.
The Bears Ears cultural landscape is known to contain more than 100,000 cultural and archaeological sites, making it the most significant unprotected archaeological area in the United States. Perhaps nowhere in the United States are so many well-preserved cultural resources found within such a striking and relatively undeveloped natural landscape.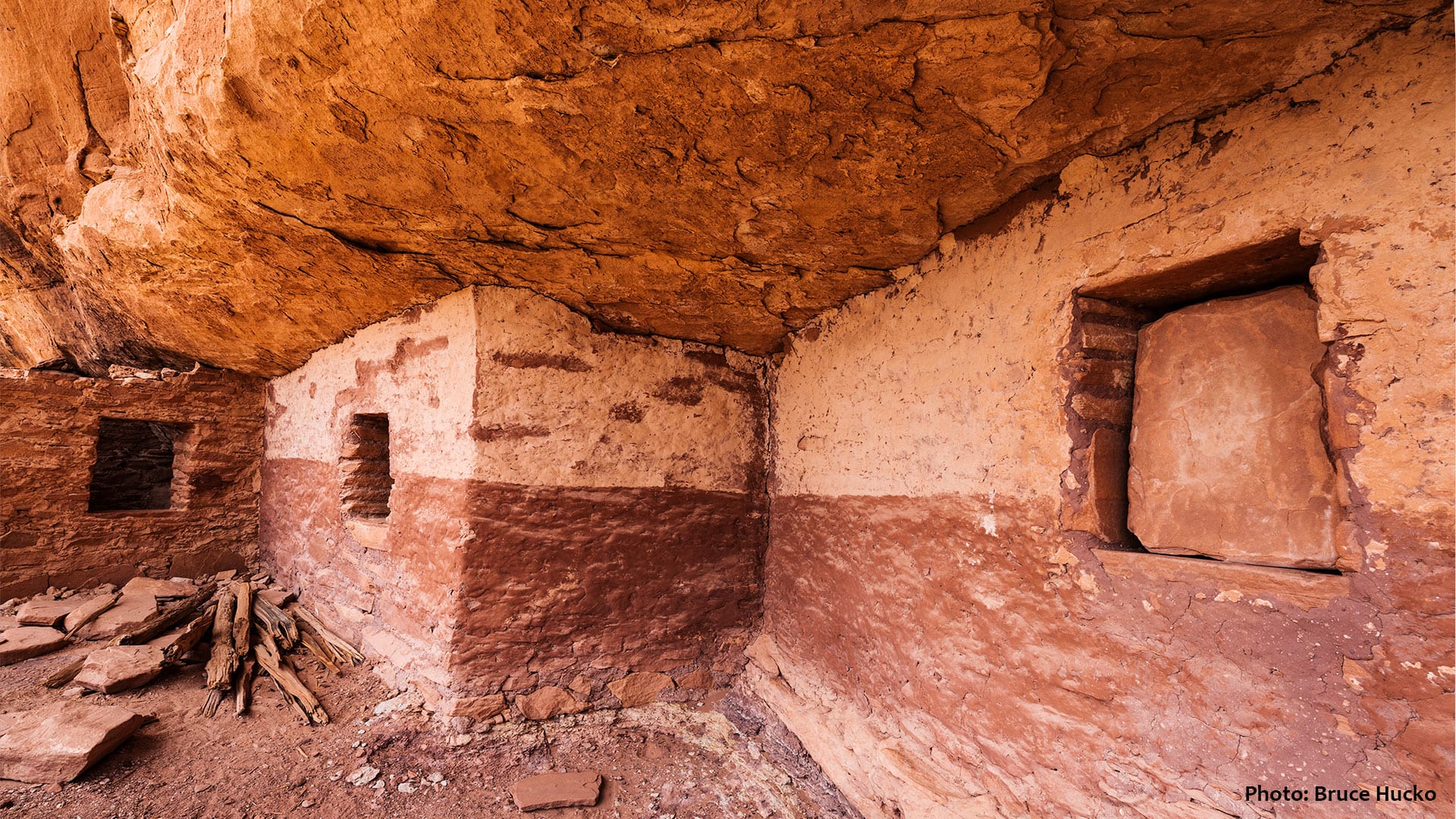 Amazingly well-preserved cliff dwelling on Cedar Mesa, with paint still present on the walls after 800 years.
Cedar Mesa has archaeological site densities that rival and perhaps exceed those found within many nearby national parks and monuments.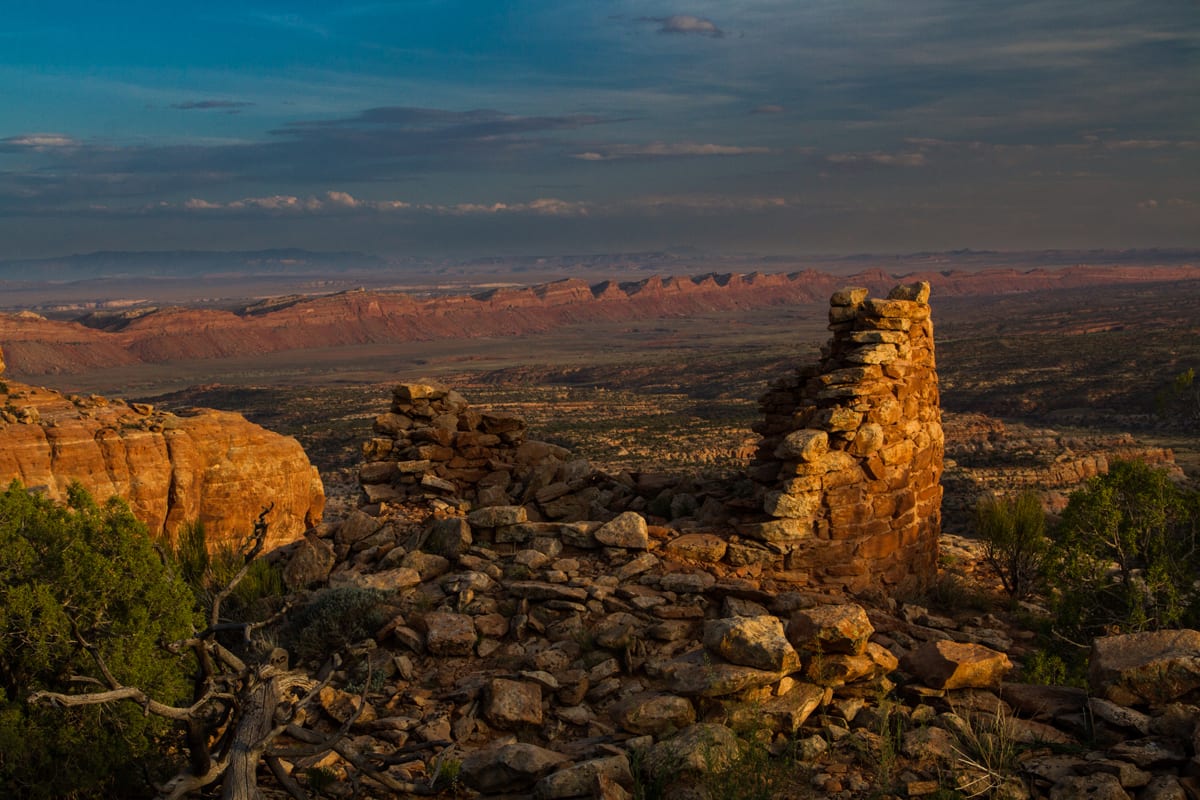 Fragile mesa-top sites are the most at risk and also represent the majority of sites.
Since time immemorial, multiple indigenous cultures have inhabited, crossed, and built civilizations on these lands. At the Lime Ridge Clovis site, western archaeologists have found evidence of Paleoindian occupation dating to as early as 11,000 B.C., though Native peoples trace their history here back much farther. Clovis sites are some of the earliest scientific evidence archaeologists have of the occupation of North America. The archaeological record indicates widespread use between 6000 B.C. and 500 B.C. by Archaic peoples. Archaeologists say the heaviest occupation of the Bears Ears region was during the Basketmaker (500 B.C. to A.D. 750) and Pueblo (AD 750-AD 1290) periods. During these times, Ancestral Puebloan people left very large numbers of archaeological sites ranging from small lithic scatters to large highly complex village sites. Other well known archaeological areas from these periods include Mesa Verde, Canyon de Chelly, and Chaco Canyon.
While the region is internationally known for its visually stunning cliff dwellings, the majority of the area's archaeology is not found in the canyon systems. Instead, the mesa tops are covered with great houses, ancient roads, underground pit houses, villages, and shrines. To the untrained eye, these archaeological features can sometimes be hard to recognize, but their importance to science, as well as Tribal descendants is immense.
The majority of these sites have never been inventoried or studied by western archaeologists, and their preservation is important to all the peoples of the world. More than just a library of human history, this place remains vital to tribal communities across the Colorado Plateau as a place of subsistence, spirituality, healing, and contemplation. To learn about the threats to these sacred sites, click here.
Navajo and Ute peoples also lived across much of the Bears Ears region, leaving very old hogans, sweat lodges, tipi rings, and rock art panels. Navajo, Ute, and Paiute travelers also used formalized trails to travel across the landscape seasonally for hunting and ceremonies.
"This place is a part of the history of all the Native peoples in this region. It's like a book for us, and when many tribes have a chapter in this book, it tells us a lot about why we are the way we are. But it's also part of the history of the peoples of the United States and the world. I believe that tribal peoples of this region shouldn't be the only ones to take responsibility for protecting the cultural resources; they belong to everyone, and everyone should take responsibility for protecting them."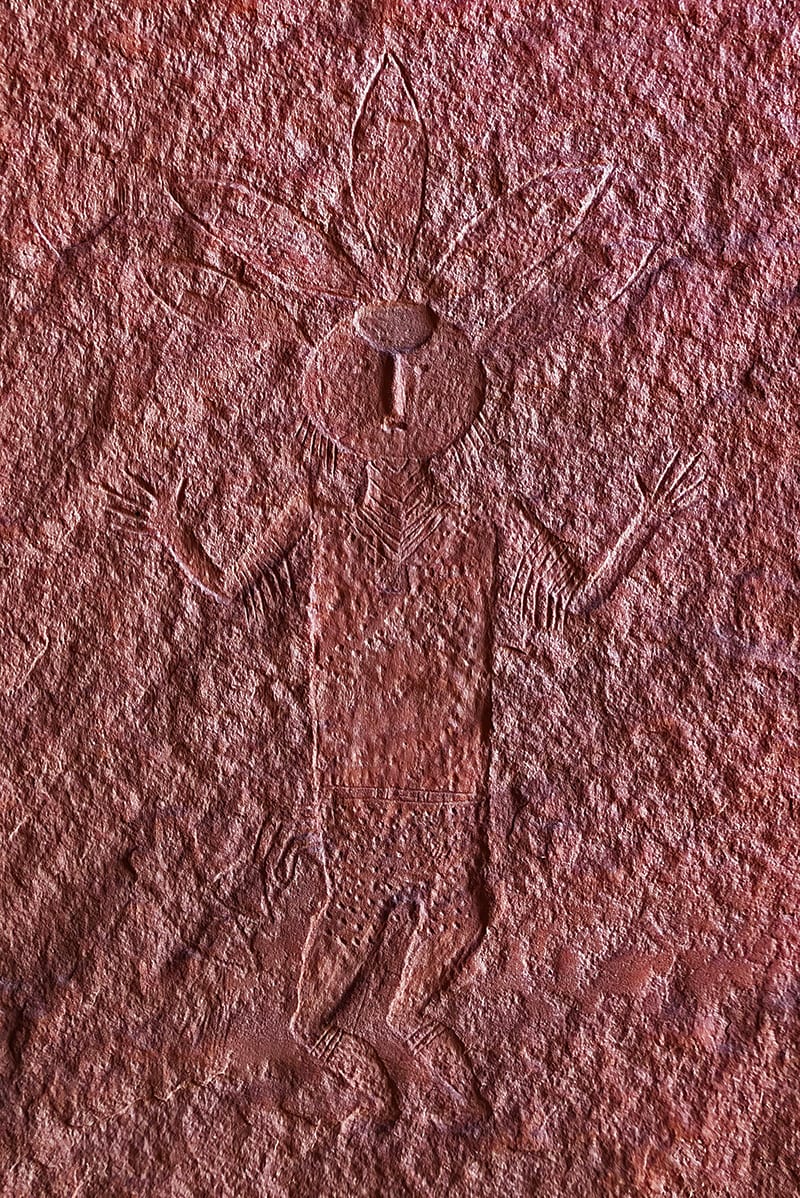 Intricate Navajo Rock Art