Monument Valley, UT (April 26, 2017) — Leaders of the Bears Ears Inter-Tribal Coalition expressed grave concerns about today's Executive Order directing the Department of Interior to review prior national monument designations and propose changes or modify or rescind these protected lands, including Bears Ears National Monument.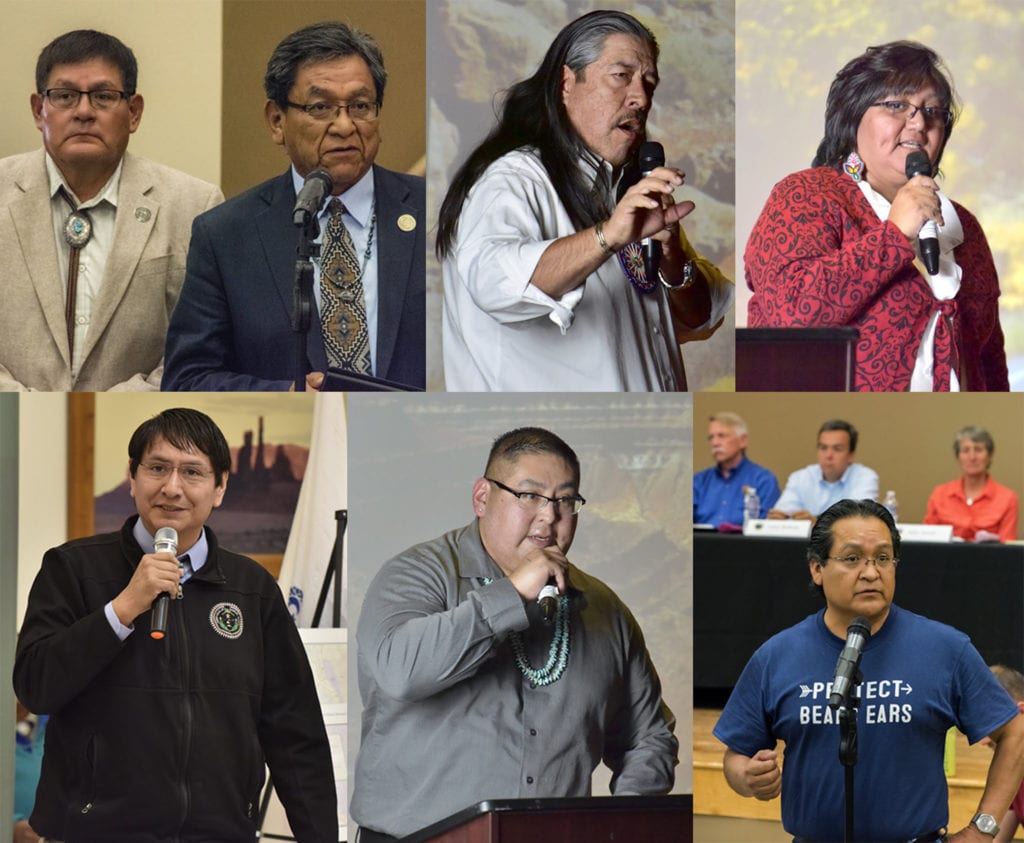 "It is extremely troubling that after years of effort to protect ancestral Native lands, President Trump and Secretary Zinke plan to give a cursory look at Bears Ears National Monument," stated Carleton Bowekaty, Zuni councilman and Bears Ears Inter-Tribal Coalition Co-Chair. "For the first time in history, five sovereign Nations came together to advocate for Bears Ears National Monument in order to protect this sacred cultural landscape that carries deep meaning for our people. This so-called 'review' creates a process to attack the designation of Bears Ears National Monument, and all public lands that are cherished by the American people."
"The designation of Bears Ears National Monument has been a celebratory moment in our history, where our voice was finally heard and our cultural and spiritual heritage was respected," said Davis Filfred, Navajo Nation Council Delegate. "Unfortunately, the Utah delegation has continued to attack Tribes and this unnecessary executive order serves to undermine Tribal sovereignty. If Secretary Zinke truly believes that 'sovereignty should mean something,' as he had said, we hope he will finally respond to the Tribes multiple requests to meet with him."
"As Tribes, we will gather ourselves together to continue the fight to save our lands for the future of not just Native people, but all people who connect with these lands," said Shaun Chapoose, Chairman of the Ute Indian Tribe Business Committee, the highest elected office of the Ute Indian Tribe. "Bears Ears National Monument is more than just mere federal land to us, as it may be to many other stakeholders – it is a living landscape; it has a pulse. It is offensive for politicians to call the Bears Ears National Monument 'an abuse'. To the contrary, it is a fulfillment of our duty to preserve our cultures and our ancestral lands, and its designation was the result of a long, deliberative process to fight for our ancestors as well as access for contemporary use of the lands by our Tribal members."
Bears Ears has been home to Hopi, Navajo, Ute Indian Tribe, Ute Mountain Ute and Zuni for countless generations. The national monument has taken more than 80 years to designate. The proclamation acknowledges a cultural landscape rich in antiquities, with more than 100,000 archaeological and cultural sites sacred to dozens of tribes. It also declares, with the full force of Federal law, that the Secretary of the Interior must work with the Bears Ears Commission on the management and protection of the resources within the monument. The permanent protection of Bears Ears is long overdue, and has finally given Tribes a strong voice in how these land are managed.
###
MEDIA CONTACT: Carleton Bowekaty: 505-879-2826
Natasha Hale: 505-906-8303