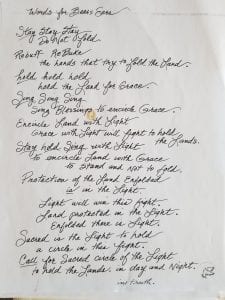 [See text below]
Stay stay stay
Do not fold
Rebuff Rebuke
the hands that try to fold the land.
Hold hold hold
hold the land for Grace.
Sing sing sing
Sing blessings to enrich Grace.
Encircle land with Light
Grace with Light will fight to hold the Lands.
Stay hold Sing with Light
to encircle Land with Grace to stand and not fold.
Protection of the Land Enfolded
is in the light.
Light will win this fight.
Land protected in the Light.
Enfolded there is Light.
Sacred is the Light to hold
a circle in this fight.
Call for Sacred circle of the Light to hold the Lands in day and night.
In truth.